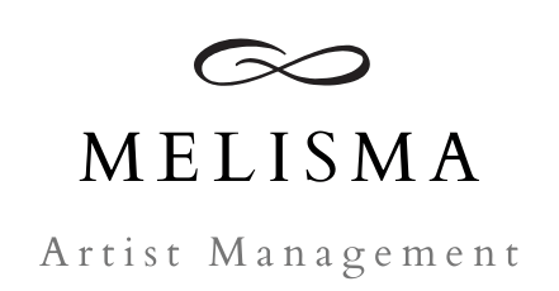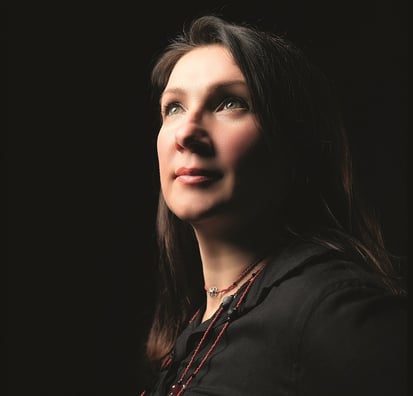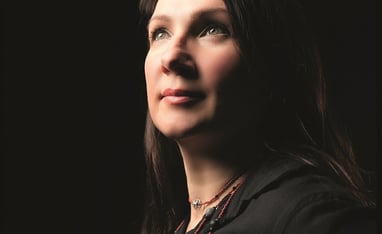 Olga Mykytenko

German soprano Olga Mykytenko has won several international awards as the Grand Prix at MARIA CALLAS International Singing contest in Athens (1997), 2nd prize and Special Award at FRANCISCO VINAS contest, Barcelona (1997) and 1st prize at the QUEEN SONJA International Song Competition in Oslo (2003). Her extraordinary musicality, solid voice technique, easy coloraturas and strong expression allow her to sing major parts from Iolanta, Mimi and Nedda to Gilda, Violetta and Lucia.
Since 1995 till 2006 Olga Mykytenko has been engaged as a soloist at the National Opera of Ukraine in Kiev, where she made her debut. Olga has been invited to take a place in duo-concerts with Renato Bruson and Jose Carreras in Kiev.

Since 2001 Ms. Mykytenko has frequently been invited to many European countries and opera scenes to perform major roles, including the title role of :
-Iolanta by Tchaikovsky at the Theater an der Wien with Vladimir Fedoseev,
-Violetta in La Traviata in Munich, Riga, Brussels and Lissabon,
-Lucia (Lucia di Lammermoor) at Marinskiy theatre in St. Petersburg,
-Musetta (La Bohéme) in a Franco Zeffirelli's production at the Rome Opera and
-Mimi (La Bohéme) at the Grosses Festspielhaus in Salzburg,
-Gilda at the Opera of Walonie (Liegi) and at the Hamburg Staatsoper,
-Nedda, Liu and Micaela at Savonlinna Opera Festival, Liu and
-Violetta at the Welsh National Opera,
-Liu and Mimi at the Berliner Staatsoper,
-Mimi at the Norwegian Royal Opera,
-Violetta at the Hong Kong Opera Festival,
-Mimi and Lucia in Essen.

In 2007 Olga appeared as Tatiana in Lyon Opera House directed by Peter Stein and made her MET debut as Lauretta under conducting of Maestro Levine, she was Gilda at Stockholm Royal Opera and Micaela at Savonlinna Opera festival. In autumn 2007 Olga sang Liu and Mimi at Aalto Theatre in Essen.

2008 brought Olga such work as Violetta in Hamburg, Nedda at the Deutsche Oper Berlin, and Liu at the Greek National Opera, she also performed at Peralada Festival as Mimi (production Emilio Sagi), Gala Puccini at St.Poelten Festival. In November she made her debut as Amalia in Verdi's "I Masnadieri" at Frankfurt Opera House.

In 2009 - Mimi and Violetta in Hamburg Staatsoper and Lucia in Essen Aalto Theater, Liu in Santiago del Chile (September 2009) and Violetta in Cologne (December 2009).

In 2010 Olga came back to Lyon for Tatiana from "Eugeniy Onegin"(with Kirill Petrenko) and made her debut as Leila from "Les Pecheurs des Perles" by Bizet in Essen, sang the Soprano part in Shostakovich's 14th Symphony at the Festival Radio France in Montpellier and with Berliner Philharmoniker under Neeme Järvi as conducter.

During the season 2010/2011 Olga Mykytenko was heard as Mimi in Toulouse, Gilda in Stockholm, Nedda in Liceu (Barcelona, April 2011), Luisa Miller in Essen, she came back to Frankfurt and Montpellier as Amalia in "I Masnadieri", made her debut as Fiordiligi in "Cosi fan tutte" in Essen.

In January 2012 she had a great success in the title roles of Francesca da Rimini and Iolanta at the Theatre an der Wien, sang number of concerts "Viva Belcanto" in Klagenfurt, was found as Amalia from "I Masnadieri" at the theatre San Carlo in Naples, made her debut at the Bayerische Staatsoper as Fiordiligi and immediately came back there to participate at the Festival as Antonia in "The tales of Hoffmann" replacing Diana Damrau.

Season 2012/2013 Olga's engagements included Donna Anna in Santiago de Chile; Antonia, Pamina, Contessa from "Le nozze di Figaro" and Amalia from "I Masnadieri" in Essen; Mimi in Stockholm.

In spring 2013 Olga was covering Diana Damrau in "La Traviata" at the MET, was invited back to Bayerische Staatsoper as Antonia, made her debut at Saarbrücken Radio Festival and sang Francesca in concert version of Francesca da Rimini in Stuttgart.

In the season 2013/2014 Olga was found as Luisa Miller, Donna Anna, Nedda and Contessa at the Deutsche Oper am Rhein, Micaela at the Bayerische Staatsoper, she performed 14 Symphony of Shostakovich with Bournemouth Symphony orchestra and with chamber orchestra in Lausanne and opened Mannheimer Mozartsommer 2014 with Mozart concert arias. 2

2014/2015 – Violetta at the Metropolitan Opera, Luisa Miller in Naples, Donna Anna at the Deutsche Oper am Rhein etc.

2015/2016 - Mimi in Dresdener Semperoper, Shostakovich 14th Syamphony with The Israel Camerata, Jerusalem; Violetta, Liu, Tatiana, Iolanta in Kiev National Opera, Nedda in New York, "Das Klagende Lied" by Mahler and Shostakovich "From Yiddish Folk-Poetry" with Liverpol Royal Philharmonic;Odessa Classics Festival.

2016/2017 - Contessa in Liceu in Barcelona, Violetta at the Metropolitan Opera, Odessa Classics Festival.

2017/2018 – Nedda and Liu in Nationaltheater Mannheim, "The bells" with Bournemouth Orchestra, "Frauenliebe und Leben" with Alexey Botvinov at the Berliner Philharmonie.

2018/2019 Olga made a successful debut in a very demanding role of Minni from "La fanciulla del west" by Puccini at the Estonian National Opera (conducting and reggie by Jose Cura) and was nominated for a year theatrical price for this role. Also she was Mimi in "La Boheme" in Mannheim.
In May 2019 Olga has recorded a CD " I Vespri Verdiani" – Verdi Arias with Kirill Karabits and Bournemouth Symphony Orchestra which has been released in January 2020. November 2019 brought Olga a real success in Marietta's role from " Die tote Stadt" by Korngold in Tallinn.Olga's book " Solo OM" is now on sale.

In 2021 Olga made her debut as Madama Butterfly at the Vanemuine Theatre and was found at the NFM Festival in Wroclaw with the 14th Symphony of Shostakovich. Recently has been released Olga's new CD " Lichter Sonnenschein" - Lieder von Richard Strauss".

In 2022 Olga was found in Tallinn and at theTeatr Wielki w Łodzi as Minni from
"La fanciulla del west".

Future engagements include: "Giovanna d'Arco by Verdi" at the Estonian National Opera.